The Royal University of Bhutan Enters into a Memorandum of Understanding with South Asia Foundation
Posted by

Categories

NEWS

Date

January 10, 2022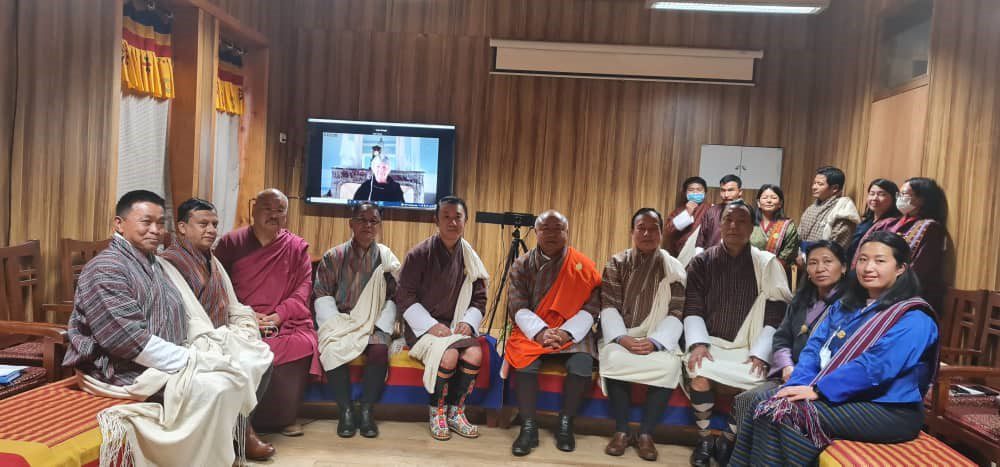 The Royal University of Bhutan (RUB) and the South Asia Foundation (SAF) signed a Memorandum of Understanding (MoU) on 31 December 2021 to operationalize and host the UNESCO Madanjeet Singh Center for South Asia Forestry Studies (UMCSAFS) Scholarships at the College of Natural Resources (CNR), Lobesa. The signing ceremony was graced by the Hon'ble Minister, Ministry of Agriculture and Forests, the earlier counterpart to the MoU implemented with SAF since 2012. The event was graced virtually by France Marquet, Principal Trustee of the Madanjeet Singh Foundation and Partner from Liechtenstein.
The MoU was signed between the Hon'ble Chairperson of South Asia Foundation, Bhutan Chapter, Dasho Ugen Tsechup and the Hon'ble Vice Chancellor, RUB, in the virtual presence of the Principal Trustee. The SAF Bhutan Chapter is represented in Bhutan by the Organization for Youth Empowerment (OYE), Thimphu.
Concurrently, a Letter of Agreement was also signed to formalize the operations of the UMCSAFS Scholarship at CNR between the Executive Director, OYE, and President, CNR, in the presence of the head of respective organizations: Chairperson, SAF, Bhutan Chapter, and the Vice Chancellor, RUB.
An annual scholarship of US$100,000 was instituted as UMCSAFS Scholarship since 2012 to support Forestry Studies in Bhutan from the SAARC countries. Thirty-three candidates from the SAARC region have received the award so far to study forestry in Bhutan. The new MoU transferred from the MoAF to RUB was signed between SAF and RUB to offer scholarship from SAARC countries to study forestry at the CNR, Lobesa.