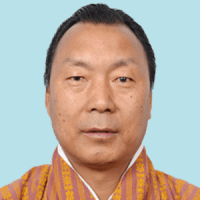 Mr. Sonam Wangchuk, PRESIDENT
College of Natural Resources
Mr. Sonam Wangchuk completed his Bachelor's degree in Commerce (B.Com) in 1989 from Sherubtse College, Kanglung, Bhutan and obtained his Master's degree in International Affairs (MIA) from Columbia University, New York, USA in 2000.
Mr. Sonam Wangchuk started his career as a Trainee Officer attached to the Ministry of Home and Cultural Affairs from 1990 to June 1992. He joined the then Ministry of Trade and Industry (Ministry of Economic Affairs) in 1992 as  the Trade Officer, Department of Trade. Since then he served in various capacities as the Regional Director, Regional Trade and Industry Offices of Gelephu and Thimphu, the Chief of Trade Negotiations Division, and the Chief of Foreign Trade Division under the Department of Trade.
He also served as the Counsellor (Economic) at the Permanent Mission of Bhutan to the United Nations and Other International Organizations, Geneva, Switzerland from July 2003 to January 2009.
From 2010 to 2012, he served as the Director, Department of Intellectual Property and from 2012 to 2014, as the Director, Department of Trade under the Ministry of Economic Affairs.
In July 2014, he was appointed as the Secretary, Gross National Happiness Commission and in July 2016 he was appointed as the Secretary, Ministry of Labour and Human Resources and successfully completed his tenure as the Government Secretary in July 2021.